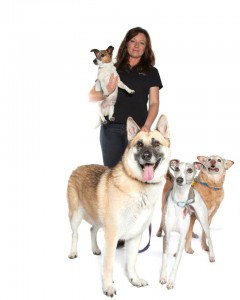 Emma Norton gained her BA at Murdoch University with a double major in Communications and Women's Studies; has completed a Certificate III in Companion Animal Services and gained her Industry Accredited Dog Trainer qualification in 2012 with Paw Prints Pet Training. Her drive is to help people gain an understanding and compassion for the biggest under-dog of all: non-human animals.
Emma has been rescuing neglected animals and volunteering at animal shelters for years. She has worked at a shelter as a Dog Handler, where she has served as a Supervisor for Work Experience students and was a Senior Adoption Counselor. She has been involved in the care and adoption of countless homeless dogs to responsible, committed families who have their dog inside the home as part of the family. Educating owners on the sad reality of the daily euthanasia of thousands of unwanted pets is important to Emma, as is educating owners about positive reinforcement training, to help dogs stay with their human families for life. In the past, Emma has also worked with other animals including horses, goats, rabbits, birds, guinea pigs, rats, chickens and cats.
As well as training people and their dogs, Emma and her dogs have participated in various levels of reward based training from Advance Puppy through to Companion Dog Life Skills and Agility.
She has a police clearance and has membership in the Association of Pet Dog Trainers Australia and The Pet Professional Guild. Emma likes to keep up to date with current best practice, science based training, by attending major dog training conferences.
Emma has a dearly loved rescue  – Zeke – a male Whippet Pedigree born early 2009.
Emma is fulfilling a dream in learning about dog behavior and body language and is passionate about helping pets and their people to better understand one another.
The photo on this page has been kindly provided by Alex from Houndstooth Studio.